Shows, Schedules & Info

Featured Show
Arch Oboler's Plays
This anthology series first ran on NBC in 1939, then was reprised on Mutual in 1945. Oboler was an immense talent, compared to Norman Corwin, specializing in stylized "radio literature" that was often political and staunchly anti-Nazi. He got his radio break in horror, writing scripts for Lights Out, before given free reign on his own show to write, produce, and direct his masterpieces of radio theatre.
Dr. Kildare
This medical drama was based on films by the same name. Lews Ayes as Dr. Kildare and Lionel Barrymore as Dr. Gillespie face everything from pushy administrators to personal drama and ethical crises in the halls of Blair General Hospital in New York City.
Charlie McCarthy Show
Ventriloquist Edgar Bergen developed his Charlie McCarthy character in high school. Bergen performed with the newsboy dummy while attending Northwestern University and eventually left college to tour vaudeville. With the decline of vaudeville during the Great Depression, Bergen moved into night spots like New York's trendy Rainbow Room but feared his friend wouldn't be appreciated by high society. So he gave Charlie a monocle and top hat and a "man about town" was born. Following a three-month guest stint on Rudy Vallee's show, Edgar Bergen was signed as headliner of The Chase and Sanborn Hour. The series premiered May 9, 1937 and ended the next three seasons as radio's top-rated series.
The Whistler
The Whistler whistled its way onto the airwaves beginning May 16, 1942 and its eerie 13-note theme set the tone for West Coast radio mystery for the next decade. "I am the Whistler and I know many things, for I walk by night. I know many strange tales hidden in the hearts of men and women who have stepped into the shadows. Yes, I know the nameless terrors of which they dare not speak."
Great Gildersleeve
The Great Gildersleeve featured one of radio's greatest casts of comedic players. The Great Gildersleeve aired until March 21, 1957, with Willard Waterman taking over the title role for the final seven radio season and three television seasons.
Gunsmoke
Radio's greatest adult western told the story of Matt Dillon, U.S. Marshal, "the first man they look for and the last they want to meet." Gunsmoke grew out of a request from CBS founder William Paley for a "Philip Marlowe in the Old West," and featured grimly realistic stories set in the vicinity of Dodge City, the "Gommorrah of the West," with William Conrad as Dillon.
Tales of the Texas Rangers
Tales of the Texas Rangers was broadcast over NBC from July 8 1950 through September 14, 1952 and was later revived on television. Western film star Joel McCrea portrayed Ranger Jace Pearson in NBC's Tales of the Texas Rangers.
CBS Radio Workshop
The CBS Radio Workshop aired from January 27, 1956 through September 22, 1957 and was a revival of the prestigious Columbia Workshop from the 1930s and 1940s. The CBS Workshop regularly featured the works of the world's greatest writers. including Ray Bradbury, Archibald MacLeish, William Saroyan, Lord Dunsany and Ambrose Bierce.
Pat Novak for Hire
Pat Novak for Hire was broadcast from San Francisco and debuted in 1946 as an ABC Sunday night West Coast series. Ben Murphy starred as the hard-boiled Novak during the West Coast run, but Jack Webb made the role his own when series was revived on February 13, 1949 over the entire ABC national network.
Lux Radio Theatre
The Lux Radio Theatre was one of radio's most popular series attracting Hollywood's top stars and boasting a lavish budget. The Lux Radio Theatre began in 1934 featuring dramas from Broadway, but there was not enough material to support the show. In an attempt to reverse the slipping ratings, the show was moved to Hollywood in 1936, where there was plenty of material and talent.
Jack Benny Program
For more than 20 years, Jack Benny reigned as the king of radio comedy. His show ran on nearly every network from 1932 to the mid 1950s. How he turned a miserable, self-absorbed cheapskate into a beloved icon ranks among the great achievements in entertainment history. Benny revolutionized the way humor was played on radio by introducing the situation comedy and by giving most of the best lines to his supporting cast.
Phil Harris & Alice Faye Show
The Phil Harris & Alice Faye Show grew out of the popular Fitch Bandwagon series. Phil Harris played himself, continuing the egotistical, smart-alec characterization he had perfected during his years as Jack Bennys' bandleader. Alice Faye, Phil's movie star wife, recreated her real-life role as a film star turn devoted housewife.
Night Beat
Frank Lovejoy is heard as Randy "Lucky" Stone, a hardboiled reporter who covers the "nightbeat" for the Chicago Star. Randy Stone wandered the back alleys and bars of Chicago, searching for both crime and human-interest stories. Nightbeat premiered on February 6, 1950 and ran until September 25, 1952.
Lights Out!
Lights Out debuted January 1, 1934 over Chicago's WENR and moved onto the NBC airwaves beginning April 17, 1935. Radio's premier horror series was created by writer/ director Wyllis Cooper. Cooper was succeeded by Arch Oboler, one of radio's greatest dramatic talents.
When Radio Was
Radio Spirits' nationally syndicated radio program hosted by old-time radio expert Greg Bell
Gangbusters
Gangbusters first came to radio under the title G-Men beginning July 20, 1935. The long-running series was created by Philip H. Lord and produced "in cooperation with police and federal law enforcement departments throughout the U.S. Gangbusters was one of radio's longest-running dramatic series, running from January 15, 1936 through November 27, 1957, and its classic opening gave rise to the expression "coming on like gangbusters."
This Is Your F.B.I
This Is Your F.B.I. came to the Blue Network on April 6, 1945, created, produced and directed by Jerry Devine, a former child actor. Like Philips H. Lord before him, Devine got special permission from bureau head J. Edgar Hoover to dramatize older cases using fictitious names and locales. Frank Lovejoy was the program's first narrator, followed by Dean Carlton and later William Woodson.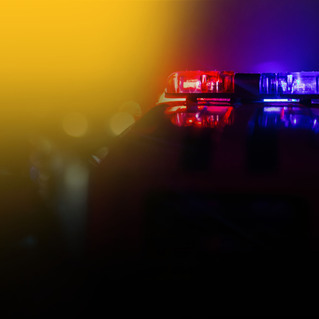 The Line-Up
This CBS cop procedural pulls back the curtain on crime fighting in San Francisco. The Shadow's Bill Johnstone starred as cool-mannered Lt. Ben Guthrie, foil to hot-tempered Sgt. Matt Grebb. Director Elliot Lewis was one of the busiest men in radio, having a hand in the Phil Harris & Alice Faye Show, Suspense, Broadway Is My Beat, and many more.
Police Headquarters
This police procedural series was syndicated on NBC stations in 1932. It features quarter-hour stories typically based on true crimes.
Suspense
Suspense debuted on June 17, 1942 as a sustaining summer replacement, returned that fall and continued in the CBS lineup September 30, 1962. "Radio's outstanding theatre of thrills" is recognized as one of the finest dramatic series in the history of broadcasting.
The Black Museum
This crime drama was first produced by the BBC in 1951, and aired in the US the following year. Narrator Orson Welles told tales of this "mausoleum of murder," with ordinary objects and the murder mysteries behind them.
Broadway is My Beat
Broadway Is My Beat debuted over CBS on February 27, 1949 and continued through August 1, 1954. Anthony Ross starred as Clover during the first two seasons, with Thor taking over the role on July 3, 1950. Homicide detective Clover pounded the Broadway beat for five years in one of radio's last great detective series.
Dragnet
Ladies and gentlemen, the story you are about to hear is true. Only the names have been changed to protect the innocent... One of the most popular police dramas in the history of broadcasting, Dragnet aired on NBC Radio from June 10, 1949 through February 7, 1957 and on television from 1952-59 and 1967-72. Dragnet introduced a new era of documentary-style realism.
Burns & Allen Show
George and Gracie first performed on air over the BBC while touring England after an NBC executive rejected their act insisting that "Gracie's voice is unfit for radio." Burns and Allen won a regular spot on The Robert Burns Panatella Program February 22, 1932 and moved into the top spot when Guy Lombardo left the series. The Burns and Allen Show aired through May 17, 1950 on radio and for another decade on television. Jack Benny and George Burns were best friends in real life and often were guests on each other's programs.
Screen Director's Playhouse
The Screen Director's Playhouse featured adaptations of famous movies and called upon the screen directors to introduce and highlight their work. After each show, the director and stars gathered around the microphones to reminisce about the actual making of the film.
Bob Hope Show
Bob Hope was born in England in 1903 and immigrated to the U.S. four years later. After an early career in vaudeville and musical revues, Hope made his radio debut on Rudy Vallee's Fleischmann Hour in 1933 and joined the cast of James Melton's Intimate Revue in 1935. After introducing his "Thanks for the Memory" theme song in Paramount's The Big Broadcast of 1938, Hope returned to radio as star of NBC's The Pepsodent Show beginning September 27, 1938.
The Couple Next Door
This serialized comedy-drama aired first in the mid 1930s and was later revived in 1957 with Peg Lynch and Alan Bunce playing their characters from Ethel & Albert. Peg Lynch wrote every episode of this 15-minute CBS series from 1957-1960.
Cavalcade of America
The Cavalcade of America was a historical dramatic anthology and aired from 1935 to 1953. Patriotic in nature, this series was created in part to improve the name of sponsor DuPont Chemical, which received backlash for profiting enormously from War World I. The show's themes were never voilent, but rather idealistic. Stories included the voyage of the Mayflower, the first telegraph, and Eli Whitney's cotton gin.
Fibber McGee & Molly
The husband-and-wife vaudeville team of Jim and Marian Jordan began their radio careers in Peoria on a bet from Jim's brother. The Jordans were heard as The O'Henry Twins and The Air Scouts before Don Quinn created Smackout in 1931. Quinn revamped the show as Fibber McGee and Molly in 1935 when Johnson's Wax signed on as sponsor.
Life With Luigi
Longtime Hollywood character actor J. Carrol Naish became a radio star in his own right after nearly two decades toiling in the background in such films as Beau Geste, House of Frankenstein and the Batman movie serial. The native New Yorker of Irish descent finally won fame as "the little Italian immigrant" who each week wrote of his American adventures to his mama in Italy. Life with Luigi aired from September 21, 1948 through March 3, 1953 on radio, and the radio cast briefly did double duty in a short-lived 1952 television version.
The Weird Circle
This horror series consisted mostly of adapted supernatural tales from greats like Edgar Allen Poe and Robert Louis Stevenson. It aired for two seasons from 1943-1945, first on Mutual and then on NBC's Red network.
Crime Classics
Crime Classics featured "true crime stories from the records and newspapers of every land from every time" culled from director Elliott Lewis' voluminous personal library of true crime cases. The CBS series ran from June 15, 1953 through June 30, 1954.
Man Called X
Wherever there is mystery, adventure, intrigue, in all the strange and dangerous places in the world, there you will find--The Man Called X! Debonair British actor Herbert Marshall stars as FBI agent Ken Thurston, "the man who crosses the ocean as readily as you and I cross town; he is the man who fights today's war in his unique fashion, so that tomorrow's peace will make the world a neighborhood for all of us." The Man Called X debuted over CBS on July 10, 1944, moved to NBC in 1950 and continued through May 20, 1952.
Frontier Fighters
This series consisted of 15-minute episodes about true historical adventures in the American West. Some of the stories include Lewis & Clark, the Oregon boundary dispute, and the purchase of Alaska. The original broadcast dates for Frontier Fighters are still unclear; the series ran sometime during the 1930s.
The Saint
Leslie Charteris' famous character first came to radio on January 6, 1945 with Edgar Barrier heard as the debonair Simon Templar. The "Robin Hood of modern crime" returned to the airwaves on July 9, 1947 with Vincent Price in the title role in a short-lived CBS summer series. Price returned to the role in 1949 over Mutual and became radio's most remembered Simon Templar.
The Cisco Kid
The Cisco Kid rode onto the Mutual airwaves on October 2, 1942, in a series that starred the versatile Jackson Beck. Cisco and his partner Pancho rode off the Mutual trail on December 14, 1945, but the characters returned to the airwaves two years later in a new version that was broadcast over the Don Lee Pacific Coast Network. Jack Mather and Harry Lang (later replaced by Mel Blanc) portrayed Cisco and Pancho in the later series, which ran for a decade.
Hopalong Cassidy
Hopalong Cassidy's millions of fans got a New Year's Day present in 1950 when William Boyd brought the famous Bar-20 Ranch onto the Mutual radio range. In 1950, Clarence Mulford's classic cowboy was heard on 152 radio stations, seen on 63 television outlets and appeared as a comic strip in 155 newspapers.
Adventures of Philip Marlowe
Raymond Chandler introduced readers to Philip Marlowe in his 1939 novel The Big Sleep. Humphrey Bogart, Robert Montgomery and George Montgomery portrayed the hardboiled detective in films before Van Heflin took over as Marlowe in NBC's 1947 summer series.The Adventures of Philip Marlowe returned September 26, 1948, as a CBS series and starred Gerald Mohr. CBS Chairman William S. Paley was a big fan of The Adventures of Philip Marlowe, and his request for a "Philip Marlowe in the West" led to the development of the legendary western Gunsmoke.
The Chase
This NBC thriller ran for about a year from the spring of 1952 to the summer of 1953. Each unique story entails suspense, action and, of course, a protagonist on the run. The series often featured guest stars who were announcers or actors for other suspenseful series, and many of the scripts were also used in other dramas like The Clock and Inner Sanctum Mysteries.
Halls Of Ivy
Ronald Colman and wife Benita Hume were popularly known as Jack Benny's ever-patient, next-door neighbors. However, in January 1950, they left to start their own show. Ronald played William Todhunter Hall, president of Ivy College in the "town of Ivy, USA." Benita was wife Vicky, the former Victoria Cromwell of the English theatre. The stylish college president was brought down to earth by the lively former actress who happily refered to him as "Toddy-dear." Together, the Halls handled the students as well as the stodgy Board of Directors with a "modern" flair.
Frontier Gentleman
This excellent Western series, created by Antony Ellis, aired for several months on CBS in 1958. John Dehner starred as British reporter J.B. Kendall, who traveled the Wild West in search of stories of adventure. Versatile radio stars like Virginia Gregg, Jospeh Kearns, Stacy Harris and more were featured throughout.
Life of Riley
The Life of Riley featured the comic misadventures of riveter Chester A. Riley. Riley was a devoted family man with a talent for flying off the handle and a penchant for being worse. Movie star William Bendix played the title role of the lovable hardhat throughout the series.
The Bickersons
Don Ameche and Frances Langford first portrayed The Bickersons as a skit on The Charlie McCarthy Show and moved into their own NBC series on September 8, 1946. John and Blanche Bickerson fought about anything and everything, especially Blanche's ne'er-do-well brother Amos, played by Danny Thomas. Many of the finest Bickersons skits revolved around the conflicts brought on by John's narcolepsy and Blanche's insomnia. The Bickersons initially ran for only two seasons, although the show was revived in 1951 as a summer series starring Lew Parker and Frances Langford.
Boston Blackie
Boston Blackie was created by Jack Boyle, a hard-drinking opium addict who served three prison terms. While in prison, Boyle began writing true-crime confession stories that were published in The American Magazine under the byline 6006, his convict number. Boyle's stories were collected in his 1919 book, Boston Blackie, and inspired a popular series of B-films, the radio series and a 1951 video version.
Crime & Peter Chambers
Dane Clark stars as Peter Chambers, a tough private eye that plays nice with the NYPD. The series is based on "Peter Chambers" novels, written by Henry Kane.
Command Performance
Command Performance aired between 1942 and 1949 on the Armed Forces Radio Network, which meant it was transmitted exclusively to American troops overseas. Though produced in California, troops abroad sent requests and ideas for performers, music, and sketches. The show featured some of the biggest stars of the day like Bob Hope, Bing Crosby, Jack Benny, Judy Garland and more. CBS created a spinoff series called Request Performance, which aired from 1945-46.
Duffy's Tavern
Millions of radio listeners visited Duffy's Tavern each week, but Duffy himself was nowhere to be found. Although he dutifully phoned Archie the manager each week, he never once dropped by. Duffy's Tavern first opened its doors to radio listeners on the CBS audition series Forecast on July 29, 1940, and then opened for regular business on March 1, 1941.
Adventures of Harry Nile
This series is one of a few modern series featured by Radio Classics. A creation of writer Jim French, Harry Nile first came to radio in 1976 and continued to be adapted into the late '90s as part of the "Imagination Theatre" productions. Harry Nile, a former Chicago cop turned private detective, was played by Phil Harper for more than 20 years.
Further Adventures of Sherlock Holmes
Jim French wrote this modern adaptation of mystery's most famous detective as part of the Imagination Theatre productions. These plays were produced and aired in the '00s. John Patrick Lowrie plays Holmes and Lawrence Albert portrays Watson.
The Abbott and Costello Show
Bud Abbott and Lou Costello made their radio debut on CBS' The Kate Smith Show as replacements for Hollywood-bound Henny Youngman. The former burlesque comics reintroduced and preserved the classic comedy sketches of vaudeville in their films and radio and television series. The Abbott and Costello Show debuted as a 1940 summer replacement for Fred Allen and later aired from October 8, 1942 through June 29, 1949.
The Alan Young Show
This sitcom aired from 1944-1949, first as a summer replacement series for Eddie Cantor's show. Then, after signing on as a regular on the Jimmy Durante show, young scored his own show with Tums as a sponsor. Today he is best known as TV's Wilbur Post, who talked with Mr. Ed the horse.
Our Miss Brooks
Eve Arden portrays Miss Connie Brooks, an overworked and underpaid teacher of 10th grade English at Madison High School. Our Miss Brooks called her radio classroom to order beginning July 19, 1948. The final bell rang for Our Miss Brooks on July 7, 1957.
Adventures of Sam Spade
Dashiell Hammett's Sam Spade walked out of the pages of Black Mask and into his own CBS radio series of July 12, 1946. Howard Duff starred as the hardboiled detective for the first three seasons. Lurene Tuttle was Sam's secretary Effie Perrine and Jerry Hausner was his lawyer Sid Weiss. CBS dropped the series in 1950 when Hammett ran afoul of Congress' Un-American Activities investigators, but the show was quickly revived by NBC.
A Date With Judy
Fourteen-year-old Ann Gillis starred in the 1941 series, and Dellie Ellis starred in the 1942 version. Louise Erickson (who had played Judy's friend Mitzi opposite Ellis) made the title role her own in a 1943 summer series and starred in the regular program from 1944-49. Judy's father Melvyn was the owner of the Foster Can Company, and her mother was a typical housewife. Judy also had a brother Randolph, a boyfriend Oogie and plenty of friends.
Escape - Radio Classics
Radio's greatest series of high adventure debuted over the CBS network on July 7,1947. Escape's protagonists faced life-and-death situations each week, as the show careened from classic adventure to Western drama to science fiction. The program was broadcast as a sustainer (unsponsored) series during most of its seven-year run.
Yours Truly, Johnny Dollar
Yours Truly, Johnny Dollar told the story of the freelance insurance investigator with the "action-packed expense account." Radio's last great detective series, Yours Truly, Johnny Dollar ended its run September 30, 1962 during the final week of network radio drama.
Family Theater Classic Radio
The Family Theater radio series, which featured hundreds of famous actors, was broadcast on the Mutual Broadcasting System from 1947 to 1969, making it one of the longest running weekly dramatic radio programs in history.
Greg Bell
"From his native Illinois to a number of Rocky Mountain years in Colorado and Idaho, Greg Bell has done it all in radio – program director, news director, sports director, anchor and reporter. Bell's goal with Radio Classics is to take you back to the time when the family gathered around the radio.

E-mail Greg Bell "
offer details: The subscription plan you choose will automatically renew and you will be charged according to your chosen payment method at then-current rates. Fees and taxes apply. Please see our Customer Agreement for complete terms and how to cancel, which includes calling us at 1 866-635-2349. All fees, content and features are subject to change.