Weather & Entertainment
All Flight Long
3 easy steps
to get started...
SiriusXM vs. ADS‑B
Choose satellite weather for twice-as-fast Composite Radar and Lightning plus exclusive features not found on the ground-based ADS-B system. The 2020 Mandate doesn't require that you use ADS-B weather. Choose SiriusXM, ADS-B, or both!
Dare to Compare
| Superior Features | SiriusXM Weather | ADS-B |
| --- | --- | --- |
| No Altitude Limitation or Line-Of-Sight Restrictions | | |
| Coast-To-Coast Coverage From Taxi To Landing | | |
| High-Res Composite & Base Reflectivity Radar | | |
| NEXRAD Storm Cell Attributes | | |
| Both Cloud-To-Cloud & Cloud-To-Ground Lightning | | |
| Echo Tops | | |
| High-Res Surface Winds | | |
| Surface Visibility | | |
Features, Packages, and Pricing
Compare SiriusXM Aviation Package Features
Subscription Packages & Features2
See DETAILS below 1
Pilot Express
$2999/Mo
Pilot for ForeFlight
$3999/Mo
Pilot Preferred
$5999/Mo
Pilot Pro
$9999/Mo
High-Resolution Composite (NEXRAD) Radar
High-Resolution Base Reflectivity Radar
NEXRAD Storm Cell Attributes
Lightning: Cloud-to-Cloud & Cloud-to-Ground
Temporary Flight Restrictions
Winds Aloft - Graphical
Temps Aloft
AIRMETs/SIGMETs- Graphical
PIREPs
High-Resolution Surface Winds Forecast
0-3 Hr
0-24 Hr
Weather Map w/Surface Features & Isobars
0-24 Hr
0-48 Hr
Radar Coverage/Site Status
Icing NOWcast
METARs/ TAFs — CONUS
METARs/TAFs — Non-CONUS
-
Cloud Top Image
-
Echo Top Raster
-
Graphical Turbulence Guidance
-
Freezing Level
Tropical Storm Tracks with Windfields
-
Surface Visibility Forecast
-
150+ Channels of SiriusXM Satellite Radio
Optional
Optional
Optional
Optional
Compatible Hardware
Hardware and Package Compatibility
Equipment Brand
Pilot Express
Pilot Preferred
Pilot Pro
Pilot For ForeFlight
SiriusXM
SXAR1
SXAR1
SXAR1
SXAR1
Garmin
GXM 42
GXM 42
GXM 42
-
Garmin
G3X Touch
G3X Touch
G3X Touch
-
Garmin
GDL69/ 69A SXM
GDL69/ 69A SXM
GDL69/ 69A SXM
-
Garmin
GDL™ 51/52
GDL™ 51R/52R
GDL™ 51/52
GDL™ 51R/52R
GDL™ 51/52
GDL™ 51R/52R
GDL™ 51/51R
GDL™ 52/52R
Audio Unavailable
Superior Weather on ForeFlight
With Garmin GDL 51/51R or GDL 52/52R or the SiriusXM SXAR1 Aviation receiver, pilots using an iPad or iPhone
with the ForeFlight Mobile app v.9.5 can view SiriusXM Aviation in-flight weather
and data delivered via satellite to monitor storm fronts, track lightning strikes,
TAFs, METARs, winds and more.
It's Easy to Add SiriusXM Aviation Weather to ForeFlight.
1. Purchase compatible hardware.
2. Download the latest version of the ForeFlight Mobile app.
3. Choose the Pilot for ForeFlight Subscription Package.
4. Activate Service Online or call 1-855-838-8563. See DETAILS below.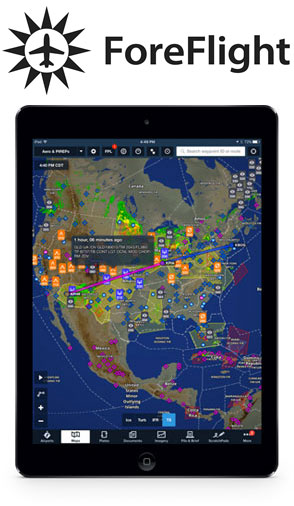 Pilot for ForeFlight Features
$3999
MONTH
See DETAILS below
High-Resolution Composite (NEXRAD) Radar
High-Resolution Base Reflectivity Radar
NEXRAD Storm Cell Attributes
Lightning - Cloud-to-Cloud & Cloud-to-Ground
Temporary Flight Restrictions
Winds Aloft - Graphical
Temps Aloft
AIRMETs/SIGMETs - Graphical
Freezing Level
PIREPs
Radar Coverage/Site Status
METARs/TAFs - CONUS
METARS/TAFs - Non-CONUS
Cloud Top Image
Graphical Turbulence
Icing NOWcast
Weather Map with Surface Features
Surface Visibility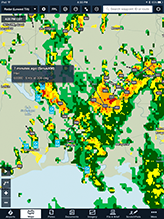 Track High-Resolution
Base Reflectivity Radar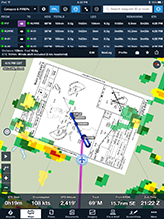 Overlay Flight Route On
Inflight Weather & Charts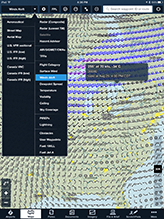 Access Forecast Winds
At Any Altitude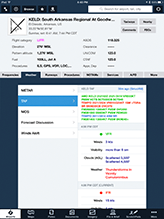 Anticipate Changing
Airport Conditions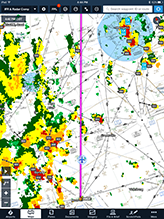 Avoid Hazardous
Inflight Weather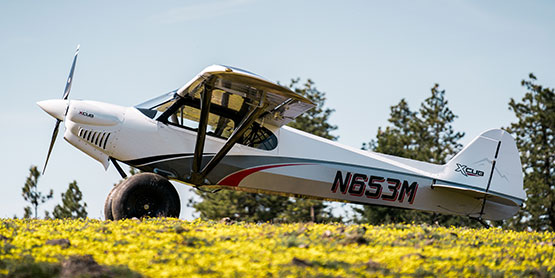 $100 Rebate
Rebate Offer Details
Purchase any eligible new aviation satellite weather receiver from 1/1/2020-12/31/2020, activate it with any SiriusXM Aviation weather subscription package, maintain 60 days of continuous paid service and receive a $200 SiriusXM Rewards Visa®