Enter for a chance to win a
ROW of 10 tickets to see
Panic! At The Disco on the
Viva Las Vengeance Tour!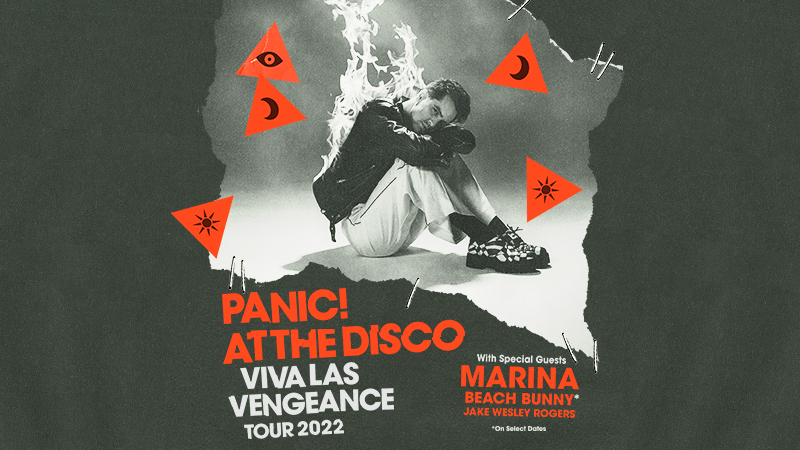 Panic! At The Disco: THE VIVA LAS VENGEANCE TOUR, their global headlining arena run kicks off in September 2022. The world tour will mark the band's return to iconic venues with special guests including MARINA and Jake Wesley Rogers with Beach Bunny joining on select dates in North America.

Each Grand Prize Winner will receive a row of tickets in their selected market to see The Panic! At The Disco perform on their Viva Las Vengeance Tour.

To enter, choose one of the 27 shows you want to attend from the pull down menu below and complete the entry form. One (1) grand prize winner will be selected from each venue entry pool to receive a row of ten (10) tickets to see Panic! At The Disco on theViva La Vengeance Tour.

For Panic! At The Disco: Viva Las Vengeance Tour dates and tickets, click here.

TELL US WHAT YOU LIKE AND GET MORE OF WHAT YOU WANT! After you enter, tell us your favorite SiriusXM shows and channels so we can tell you about more exclusive subscriber opportunities including invitations to private SiriusXM events, free tickets to concerts, movie screenings and sporting events, and much more!
The following information will be subject to the SiriusXM Privacy Policy. See Official Rules for details and eligibility requirements.

NO TRANSPORTATION OR LODGING WILL BE PROVIDED AS PART OF THE PRIZE. ALL TRAVEL EXPENSES ARE THE RESPONSABILITY OF THE SWEEPSTAKES WINNERS AND THEIR GUESTS.

COVID-19 Notice: Winner and their guest must comply with all health and safety laws and event venue rules, which are subject to change at any time.

NO ADDITIONAL PURCHASE NECESSARY TO ENTER OR WIN. Open only to active SiriusXM subscribers as of July 19, 2022 (self-paid or introductory trial). Must be a U.S. resident, 18 years of age or older to enter. Subject to the Official Rules available here. Void where prohibited.