DON'T MISS HOOTIE FEST: THE BIG SPLASH IN CANCUN!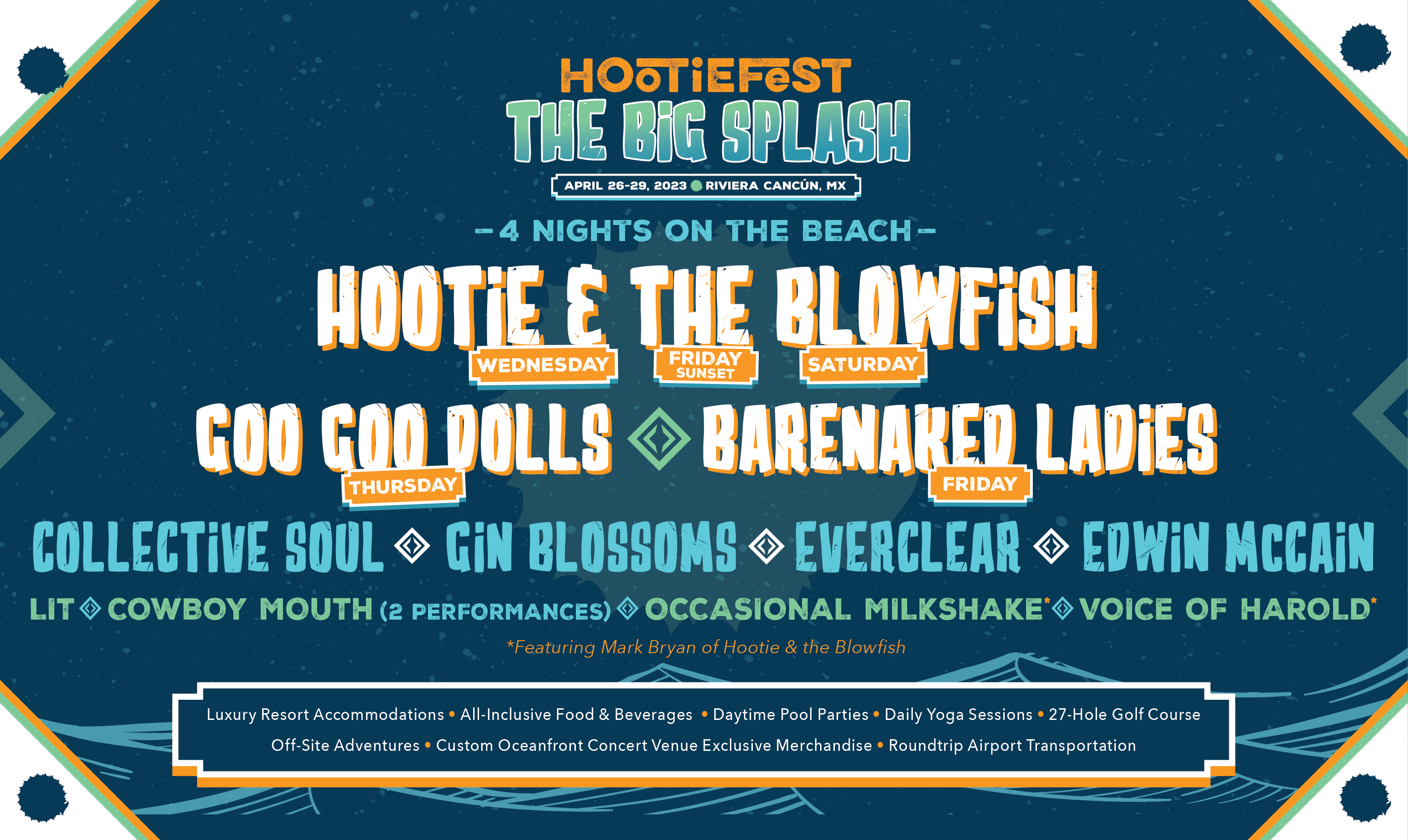 Hootie & the Blowfish return to Mexico next month for another memorable weekend on the beach at HootieFest! The four day celebration of all things rock will feature three complete sets by the GRAMMY Award-winning band, including two headlining performances and one special sunset set. The event will also feature performances by the Goo Goo Dolls, Barenaked Ladies, Collective Soul, Gin Blossoms, Everclear, Edwin McCain, Lit, Cowboy Mouth and more! SiriusXM is giving YOU the chance to win a trip to Mexico to attend HootieFest!

One Grand Prize winner will receive a (2) person all-inclusive event package for HootieFest 2023, including round-trip flights for two to Cancún, airport transportation from Cancún International Airport, a 5-night resort stay at Moon Palace, official HootieFest welcome gifts, as well as access to daily pool parties and nightly performances along the Caribbean.

For more information on this unique trip with Hootie and friends, including package info, resort details and off-site excursions, please visit: https://hes32-ctp.trendmicro.com:443/wis/clicktime/v1/query?url=https%3a%2f%2fwww.hootiefest.com&umid=8dfccc70-36c5-45b9-ae12-a2e9794fbffd&auth=aea1da0310e2636c79a3a218cdf31d6564bf6a00-da68877653b65aeeadc8b36e46d708b7e5dcd14b.

TELL US WHAT YOU LIKE AND GET MORE OF WHAT YOU WANT! After you enter, tell us your favorite SiriusXM shows and channels so we can tell you about more exclusive subscriber opportunities including invitations to private SiriusXM events, free tickets to concerts, movie screenings and sporting events, and much more!
The following information will be subject to the SiriusXM Privacy Policy. See Official Rules for details and eligibility requirements.

COVID-19 Notice: Winners and their guests must comply with all health and safety laws and event venue rules, which are subject to change at any time.

Thank you for entering, we will reach out if you are a winner!
NO ADDITIONAL PURCHASE NECESSARY TO ENTER OR WIN. Open only to active SiriusXM subscribers prior to February 21, 2023 (self-paid or introductory trial). Must be a U.S. resident, 21 years of age or older to enter. Subject to the Official Rules available here. Void where prohibited.