The 2019 RAM 1500 is equipped with
SiriusXM with 360L
plus a one year All Access trial subscription.

More variety, control and personalization than ever before. All you have to do is listen.
Simply the most
amazing SiriusXM
experience EVER
More to hear in your vehicle than ever: over 200 channels and 5000+ hours On Demand
New Live Sports Category means a faster way to find the action
Recommendations based on what you like to listen to
Personalized listening experience for you and one for your

co-pilots

too
Voice search lets you easily find what you want to hear
For a sports fan, this is a slam dunk.
You're at the heart of the most personalized listening experience.
Listening Profiles for all
The driver, the co-pilot, even the backseat driver gets a customized listening experience with an individual listening profile. Each listener profile gets their own favorites, personalized recommendations and more.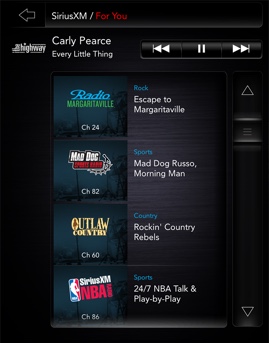 Recommendations just for you
Based on what you like to listen to, we'll send you things we think you'll love to hear. You'll get channels, shows and On Demand. And the more you listen, the smarter your recommendations get.
All so easy to use
Your voice calls the shots
Your voice, your choice. Search for artists, programs or channels safely and quickly using your voice.
All organized the way you like it
It's so easy get to what you love. Everything's set up in simple-to-navigate categories for quicker searching. So less looking and more listening and loving.
From car to gym to home, never miss a beat
Your SiriusXM experience goes with you from the car to your phone to your computer to the streaming devices all over your house*. That's right your SiriusXM favorites your way.
*Note: All features not available on all connected-device platforms.Certain features of the SiriusXM with 360L may not be available unless 'data' is enabled in the vehicle; data charges may apply (charged separately) when your trial subscription ends.