Keep listening to SiriusXM after your trial
Subscribe now and you'll enjoy your whole trial followed by uninterrupted service when it ends.
Amazing Content

The latest and greatest from artists and celebs you love
Inside Your Vehicle

Your SiriusXM with 360L experience gives you more than ever
Revolutionary listening
Our advanced in-car technology will guide you to the most SiriusXM channels, shows, and exclusive content for a ride that's uniquely you, with personalization features to make discovering your perfect soundtrack easier than ever before.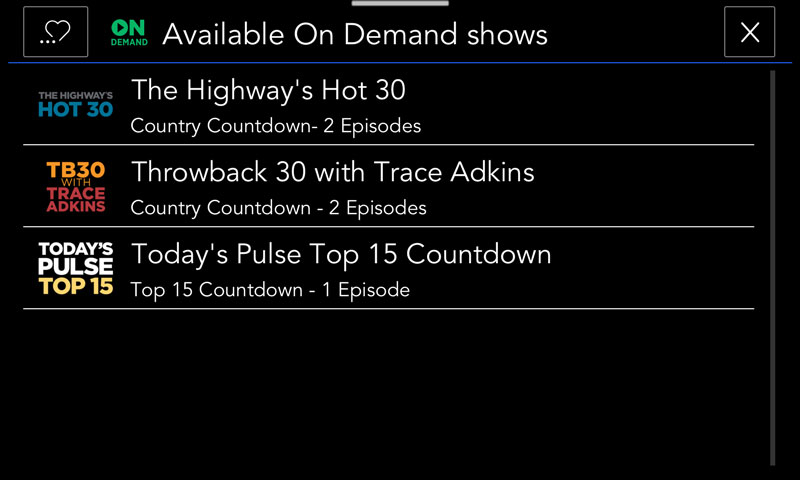 Listen on demand in the vehicle
Enjoy shows, channels, podcasts, performances, and interviews on your own time in your vehicle.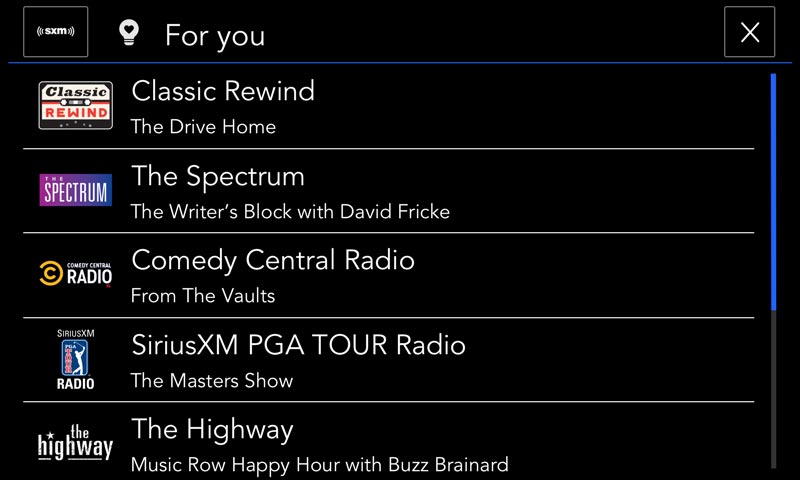 Get personalized recommendations
Search less and enjoy more in your vehicle. Discover new channels and on-demand shows with hand-picked "For You" curated recommendations that get smarter as you listen.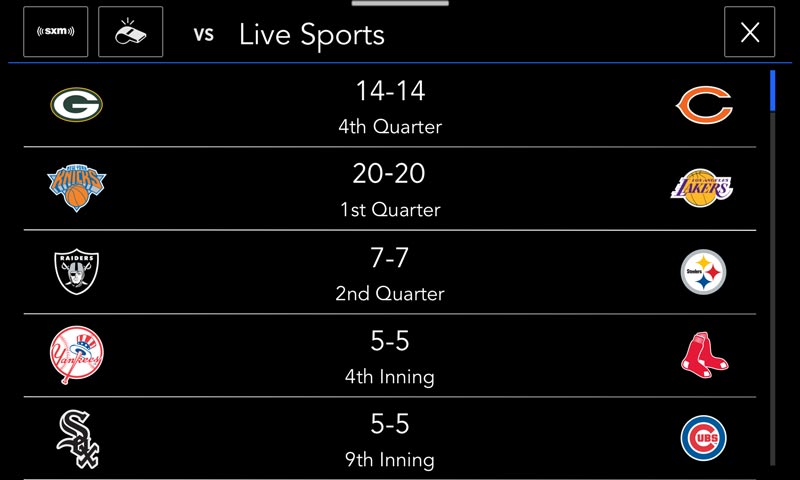 Enjoy instant access to your sports team
All NFL, NBA®, NHL®, college football and basketball games—in pregame, progress, or final states—are together, so you can get to all the action when you need it.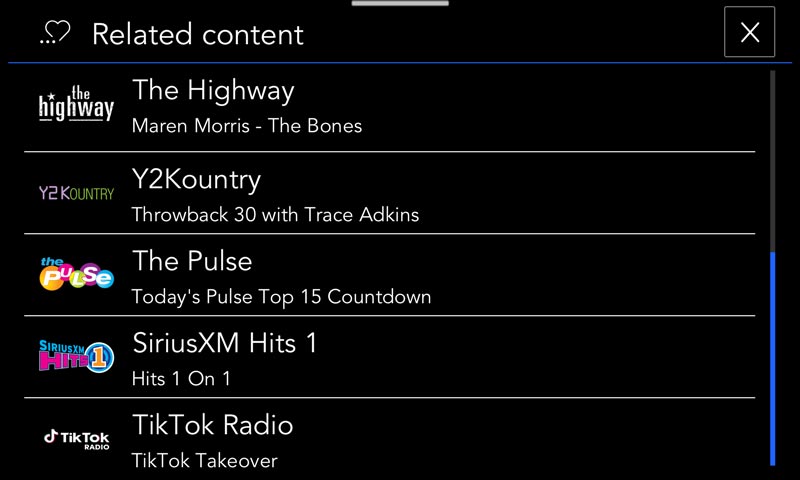 Easily discover new favorites
Like what you're hearing? Tap the "Related" button to discover channels and shows similar to what's currently playing.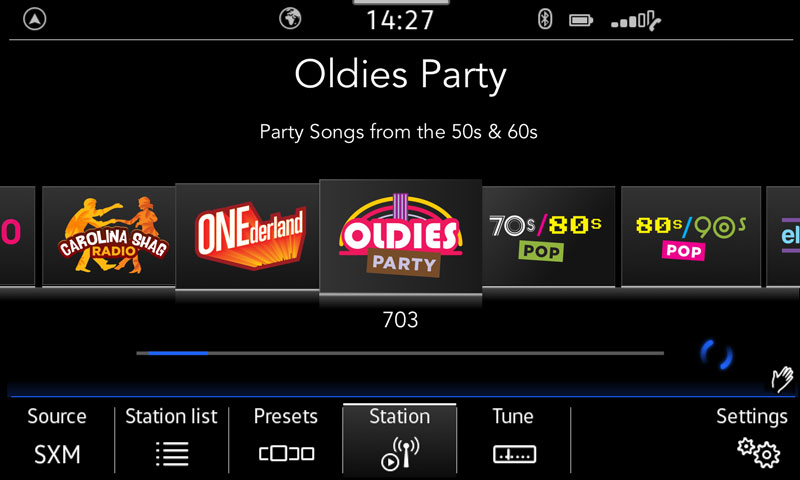 Easy-to-see channel information
Swipe quickly through the entire channel lineup, then tune to a channel with just a touch.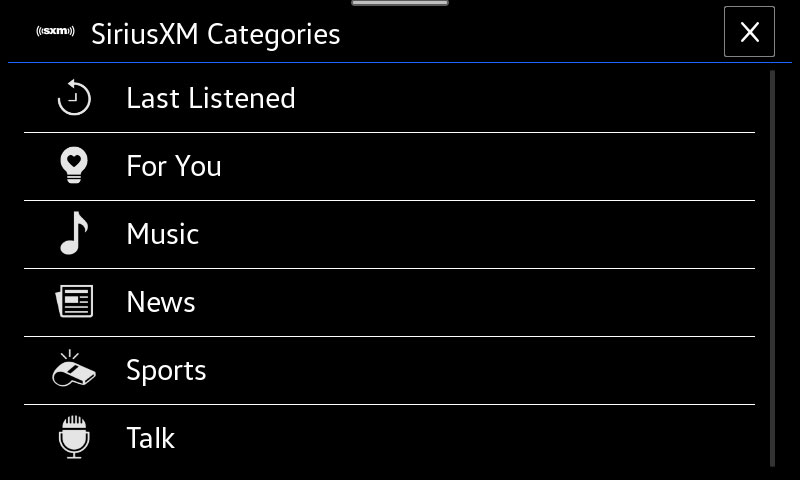 Browse the Genre Categories menu for music, news, sports, and talk
Easily find channels and other related categories that fit your mood.
Enroll in VW Car-Net
To unlock all the content and features in your SiriusXM with 360L enabled vehicle that are included in your trial, you must be enrolled in VW Car-Net Remote Access (no additional charge)
2
. If this was not completed at your dealership, simply contact VW Car-Net at
833-922-1292
or press the "i-Call" button in your vehicle's overhead console to speak to a response specialist. For more information and support, please visit
SiriusXM 360L support
.
OUTSIDE YOUR VEHICLE

Listen on the go or at home — it's all part of your trial subscription.
So many ways to listen
With the app and your supported smart devices, you can enjoy SiriusXM at home, at the gym, or in the office. It's never been easier to tune in to the entertainment you love anywhere you are.
Download the SiriusXM app to enjoy this great content
Exclusive SiriusXM video of in-studio performances, groundbreaking interviews, and celebrity hosts, including Howard Stern. Not available on all devices.
Personalized Stations Powered by Pandora to create ad-free stations inspired by artists you're into. Not available on all devices.
100+ Xtra channels of curated, ad-free music for any mood, occasion, or activity to play even more variety on the go or at home. Not available on all devices.
Already a subscriber? Here's what to do next.
Add or transfer your service
We make it easy for you. Contact us now to update your account with your new vehicle information and to deactivate service (or transfer any unused credits) on your old vehicle. We'll also help find out if you can save with our Family Discount rates.

For help call 844-287-9224
Frequently Asked Questions
Does my trial subscription automatically renew? 
No. Your Platinum trial is just a trial—it's yours to enjoy for the duration but will automatically stop at the end of your trial period (if you have not yet purchased a subscription plan to continue service following the trial's end date). Of course, we hope you'll love your trial subscription so much that you'll sign up beforehand to ensure uninterrupted service.
See Plans and Pricing Now
Manage My Account
How do I find my SiriusXM Radio ID?
Every SiriusXM radio has an identification number that is used to register radios and set up accounts. To view your Radio ID, simply navigate to Channel 0 on your radio. You can also find your Radio ID by tapping the Settings button on the bottom right of your screen, then tapping the Help and Support button.
How do I refresh my radio signal?
If your trial subscription is not yet active, or if you're not receiving all the channels you should be getting, your radio may need a refresh signal. You can have one sent in just a few moments! Have your Radio ID or VIN handy, then send a refresh signal.
What does creating a listener profile do for me?
You can create up to five listener profiles. This allows the driver, the co-pilot, and even backseat drivers to set up their own unique listening experience. Each profile gets its own SiriusXM Favorites, personalized recommendations, listening history, and more. To set up a listener profile, tap the Profile icon on your SiriusXM Home Screen then tap "Create Listener" or "Add Listener". Choose your avatar and add the name you want for your profile.
How do I save my SiriusXM Favorites in my vehicle?
Saving channels (including ones for your favorite sports team) and On Demand content as Favorites gives you quicker access to the content you love. To save a Favorite, tune to a channel or show via direct tuner or channel up/down then press the "presets" button at the bottom of your screen. Scroll to an empty preset tile and long press that tile. This channel will now be that preset. To access your saved Favorites, tap the Presets button at the bottom of your screen.
How do I find SiriusXM On Demand content in my vehicle?
You can enjoy thousands of hours of past shows, performances, and interviews right in your vehicle, so you never have to miss a moment of your favorite celebs or artists! To find On Demand content, simply tap the Station List button on your SiriusXM Home Screen and select the genre of your choice. Then, select your category to see the available On Demand content for that category. You can also go to the For You screen to see On Demand content recommended just for you based on your listening preferences.
1 SiriusXM with 360L: Certain features and/or content may not be available unless an active data connection is enabled in the vehicle. Content varies by subscription plan. To unlock all the content and features in your SiriusXM with 360L enabled vehicle that are included in your trial, you must be enrolled in VW Car-Net Remote Access.

2 Volkswagen Car-Net Remote Access: Available on most MY20 and newer vehicles. Always pay careful attention to the road and do not drive while distracted. Certain services require trial or paid subscriptions, which may have their own terms and conditions. VW Car-Net requires cellular connectivity, availability of vehicle GPS signal, and acceptance of Terms of Service. Not all services and features are available on all vehicles. Certain Car-Net services, such as Roadside Call Assist, connect out to 3rd party providers that may require additional payment. Standard text and data rates may apply for app and web features. Certain services may collect location and vehicle information. See Terms of Service, Privacy Statement, and other important information at www.vw.com/carnet.