Love SiriusXM® anywhere you are.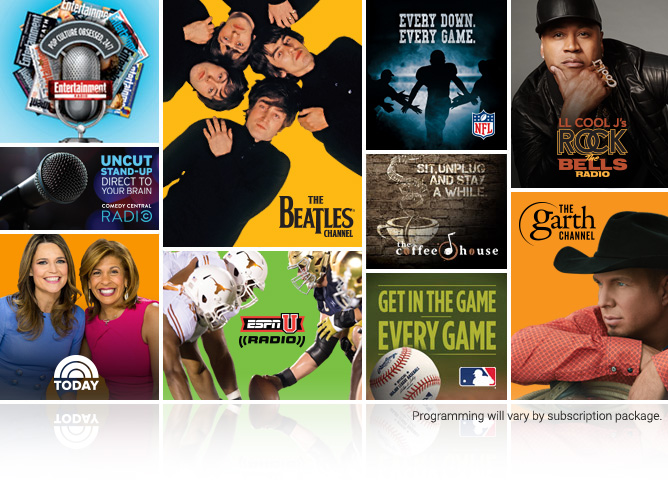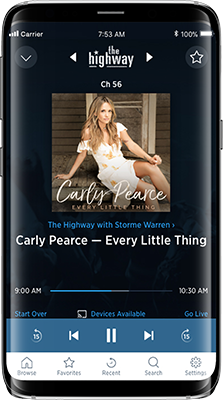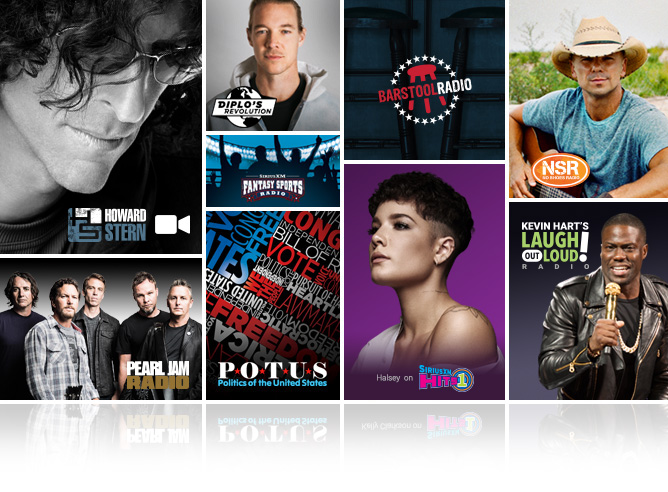 It's the perfect time to start streaming SiriusXM on the go and at home:
Hear 300+ amazing channels featuring commercial-free music and more
Explore Xtra online channels
Dig in to 5000+ hours of On Demand shows, performances and interviews
Watch SiriusXM video online or on the app
Receive personalized recommendations based on what you're listening to
Start streaming today!
Get a Trial
See Offer Details below
Enjoy it all on your time.

Miss a conversation with your favorite celeb? Wanna hear that concert by a hot new artist on your own time? Enjoy over 5000 hours of On Demand interviews, performances, shows and SiriusXM video.
So easy. And so you.
Personalized For You


You'll get channel and show recommendations based on what you're listening to. Find them by browsing "ForYou".

Organized The Way You Like It


Everything's set up in simple-to-navigate categories for quicker searching. So less time looking and more time listening.

Favorites


See all your SiriusXM Favorites broken down into Channels, Shows and Episodes for quicker access.

Reminders


Set a notification to be reminded when your favorite show is about to start and never miss a can't-miss minute.

Your Sound Travels


Now your favorites, settings, listening history and more stay in sync across all of your devices, and select vehicles. So you never miss a beat.
Listen At Home
It's easy to enjoy SiriusXM at home on tons of devices you may already own. Control it all with your voice on devices with Amazon Alexa, stream SiriusXM from your iPhone or iPad directly to your Apple TV with AirPlay, and much more.
SiriusXM Streaming FAQs
Streaming SiriusXM on your connected device is easy! Here's what you need to get started.
We've updated the SiriusXM app so you can now discover new channels and shows you love more easily and quickly. Plus, we now have new, exciting, exclusive video content only available on the app or online:
You'll get personalized recommendations for channels, artists and shows delivered right to you
You'll get a sneak peek of Howard Stern video (SiriusXM Video is only available with the All Access and Premier Streaming, trial and paid subscriptions.)
You'll have over 5,000 hours of On Demand shows, interviews and performances to watch when YOU want! You can even download and save videos on your smartphone, tablet or computer.
You'll be able to find and favorite what you like in a snap - with a fresh new look and feel!
Plus, you'll still be able to:
Set notifications to be alerted when your favorite show is about to start
Easily search for artists, channels and shows
View your recently played channels and shows to quickly jump back in
That's easy! Listen to SiriusXM at home on a wide variety of devices, many of which you may already have, including:
It's easy to enjoy SiriusXM at home. All you need is:
A SiriusXM streaming username and password.
If you already have a SiriusXM streaming username and password, you can proceed to the next step. If not, set up your SiriusXM streaming username or password.
Or, if you can't remember your streaming credentials, recover your username and password.
The SiriusXM app installed on your connected device.
Your streaming username and password can be used on any connected device that streams SiriusXM. Just choose your specific device from the full list of supported devices to find out more details.
Offer Details: Your streaming service will automatically stop at the end of your 30-day subscription unless you decide to purchase another subscription. By registering for a free 30-day streaming subscription, SiriusXM may contact you by email regarding special offers from time to time. You may always change your Privacy Preferences with us. See our Customer Agreement and Privacy Policy for complete terms. All fees and programming are subject to change. This offer is available only in the USA to those providing valid contact information. New SiriusXM streaming subscribers only.

Satellite and streaming lineups vary slightly. Programming will vary by subscription package.

Note: if you have a SiriusXM trial subscription in your vehicle, your trial already includes SiriusXM streaming so a 30-day streaming trial is not required. Simply click on "Listen Now" to start streaming.