Market Coverage Map
SiriusXM now offers coverage of major incidents—including accidents, construction and road closures in all major markets in the lower 48.
Traffic speed information is also available in over 130 markets and is usually shown with colored red, yellow or green lines alongside each major highway. The largest markets also offer coverage on minor roads.
The map below shows where incident and speed/flow information is available nationwide.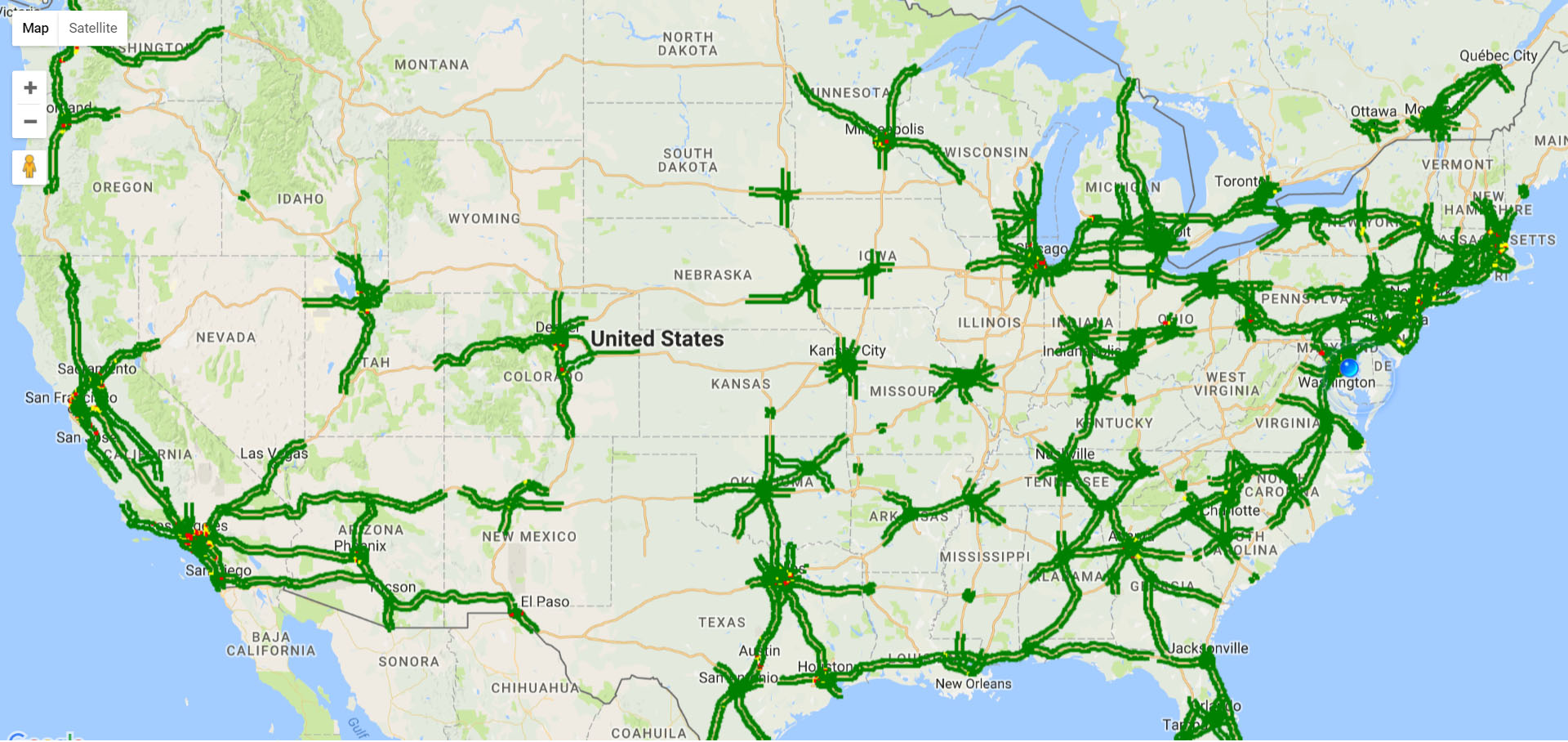 Markets with color coded speed/flow information are listed below.
| | | |
| --- | --- | --- |
| Akron, OH | Jacksonville, FL | Provo-Orem, UT |
| Albany-Schenectady-Troy, NY | Kansas City, MO-KS | Punta Gorda, FL |
| Albuquerque, NM | Kitchener–Cambridge–Waterloo-Guelph ON, Canada | Quebec City, QC, Canada |
| Allentown-Bethlehem-Easton, PA-NJ | Knoxville, TN | Raleigh-Cary, NC |
| Ann Arbor, MI | Lakeland, FL | Richmond, VA |
| Atlanta-Sandy Springs-Marietta, GA | Lancaster, PA | Riverside-San Bernardino-Ontario, CA |
| Austin-Round Rock, TX | Lansing-East Lansing, MI | Rochester, NY |
| Baltimore-Towson, MD | Las Vegas-Paradise, NV | Sacramento-Arden-Arcade-Roseville, CA |
| Baton Rouge, LA | Laval, QC, Canada | Salem, OR |
| Beaumont, TX | Lincoln, NE | Salinas, CA |
| Birmingham-Hoover, AL | Little Rock-North Little Rock-Conway, AR | Salt Lake City, UT |
| Boston-Cambridge-Quincy, MA-NH | London, ON, Canada | San Antonio, TX |
| Bridgeport-Stamford-Norwalk, CT | Los Angeles-Long Beach-Santa Ana, CA | San Diego-Carlsbad-San Marcos, CA |
| Brigham City, UT | Louisville-Jefferson County, KY-IN | San Francisco-Oakland-Fremont, CA |
| Buffalo-Niagara Falls, NY | Macon, GA | San Jose-Sunnyvale-Santa Clara, CA |
| Burnaby, BC, Canada | Manchester-Nashua, NH | Santa Barbara-Santa Maria-Goleta, CA |
| Calgary, AB, Canada | Memphis, TN-MS-AR | Santa Cruz-Watsonville, CA |
| Cape Coral-Fort Myers, FL | Merced, CA | Santa Rosa-Petaluma, CA |
| Charlotte-Gastonia-Concord, NC-SC | Miami-Fort Lauderdale-Pompano Beach, FL | Sarasota-Bradenton-Venice, FL |
| Chattanooga, TN-GA | Milwaukee-Waukesha-West Allis, WI | Savannah, GA |
| Chicago-Naperville-Joliet, IL-IN-WI | Minneapolis-St. Paul-Bloomington, MN-WI | Scranton-Wilkes-Barre, PA |
| Cincinnati-Middletown, OH-KY-IN | Mississauga, ON, Canada | Seattle-Tacoma-Bellevue, WA |
| Cleveland-Elyria-Mentor, OH | Mobile, AL | Sioux Falls, SD |
| Colorado Springs, CO | Modesto, CA | Spartanburg, SC |
| Columbia, SC | Montreal, QC, Canada | Spokane, WA |
| Columbus, OH | Mount Airy, NC | Springfield, MA |
| Dallas-Fort Worth-Arlington, TX | Napa, CA | St Catherines-Niagara Falls, ON, Canada |
| Dayton, OH | Naples-Marco Island, FL | St. Louis, MO-IL |
| Deltona-Daytona Beach-Ormond Beach, FL | Nashville-Davidson-Murfreesboro-Franklin, TN | Statesville-Mooresville, NC |
| Denver-Aurora, CO | New Haven-Milford, CT | Stockton, CA |
| Des Moines, IA | New Orleans-Metairie-Kenner, LA | Surrey, BC, Canada |
| Detroit-Warren-Livonia, MI | New York/N. New Jersey/Long Island, NY-NJ | Syracuse, NY |
| Durham, NC | Norwich-New London, CT | Tampa-St. Petersburg-Clearwater, FL |
| Edmonton, AB, Canada | Ogden-Clearfield, UT | Toledo, OH |
| El Paso, TX | Oklahoma City, OK | Toronto, ON, Canada |
| Ellensburg, WA | Olympia, WA | Trenton-Ewing, NJ |
| Flint, MI | Omaha-Council Bluffs, NE-IA | Tucson, AZ |
| Fresno, CA | Orlando-Kissimmee, FL | Tulsa, OK |
| Gatineau, QC, Canada | Ottawa, ON, Canada | Tuscaloosa, AL |
| Grand Rapids-Wyoming, MI | Oxnard-Thousand Oaks-Ventura, CA | Vallejo-Fairfield, CA |
| Greensboro-High Point, NC | Palm Bay-Melbourne-Titusville, FL | Vancouver, BC, Canada |
| Greenville-Mauldin-Easley, SC | Pensacola-Ferry Pass-Brent, FL | Virginia Beach-Norfolk-Newport News, VA-NC |
| Hamilton-Burlington, ON, Canada | Philadelphia-Camden-Wilmington, PA-NJ-DE-MD | Washington-Arlington-Alexandria, DC-VA-MD-WV |
| Hammond, LA | Phoenix-Mesa-Scottsdale, AZ | Windsor-Lakeshore, ON, Canada |
| Harrisburg-Carlisle, PA | Pittsburgh, PA | Winston-Salem, NC |
| Hartford-West Hartford-East Hartford, CT | Port St. Lucie, FL | Worcester, MA |
| Hickory-Lenoir-Morganton, NC | Portland-Vancouver-Beaverton, OR-WA | York-Hanover, PA |
| Houston-Sugar Land-Baytown, TX | Poughkeepsie-Newburgh-Middletown, NY | Youngstown-Warren-Boardman, OH-PA |
| Indianapolis-Carmel, IN | Providence-New Bedford-Fall River, RI-MA | |